VCD, or video compact disc, is a format for digital video on a recordable compact disc. It therefore pre-dates the DVD as a form of digital video disc. It originally served a role of bridging the gap between video watched on a computer and video displayed on a television via a standalone player.
The VCD format is designed so that the audio quality is lower than the standard used for a compact disc. The space that is saved is then used for the video content. The combined audio and data uses disk space at a rate that matches the disk's audio capacity, meaning either 74 or 80 minutes of footage will fit on a standard recordable DVD.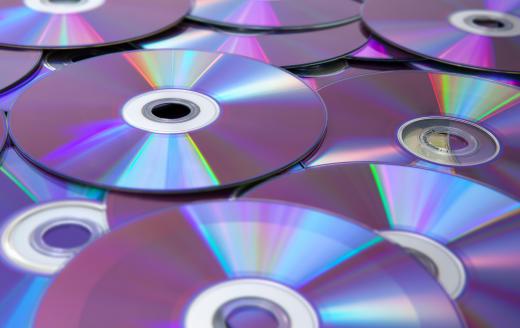 The video resolution on a VCD is 352 x 240 pixels in the NTSC system and 352 x 288 in the PAL system. This is roughly equivalent to the quality of a VHS videotape, through it's difficult to make a precise comparison as VHS is an analog format. A DVD uses roughly double the number of pixels both vertically and horizontally, meaning the amount of detail is four times greater.
Originally, most video compact discs were either watched on a computer or on a dedicated VCD player. The players had not achieved mainstream adoption by the time DVD players became popular. Since most DVD players can play the VCD format, there is now little call for dedicated players.
VCD as a format did survive in major markets after the adoption of DVD and even had something of a temporary boost. This is because many people had DVD players before the price of recordable DVDs became widely affordable. This made the video compact discs a useful option for watching downloaded content, such as TV shows or movies on a television set. Many of the "underground" communities that release and distribute illegal copies of video content online use a standard encoding system that is compatible with VCD specifications. Most people who watch downloaded content in the 21st century, however, will either burn it to DVD or stream it directly to a television set.
Movies are sold on video compact disc in some markets, most notably developing nations and parts of Asia. This includes both legitimate sales and pirated or bootleg movies. The main reason for this is that the discs themselves are cheaper to produce and sell than DVDs. The big disadvantage is that the time limit means movies normally have to be split over two discs. The time limit is less of a problem with some forms of content sold on VCD, such as pornography.
AS FEATURED ON:
AS FEATURED ON:

By: robtek

Video compact disc is a format for digital video on a recordable compact disc.

By: Volodymyr Shevchuk

VCDs replaced VHS tapes in popularity.

By: StockPhotosArt

Jewel cases may be used to prevent scratching of a VCD.